Sadly, my favorite month has ended, which means a reading wrap up for October.
The first book I read in October was Blood and Chocolate by Annette Curtis Klause for a read along with Holly Monroe from HollyHeartagram and several others.
"Vivian Gandillon relishes the change, the sweet, fierce ache that carries her from girl to wolf. At sixteen, she is beautiful and strong, and all the young wolves are on her tail. But Vivian still grieves for her dead father; her pack remains leaderless and in disarray, and she feels lost in the suburbs of Maryland. She longs for a normal life. But what is normal for a werewolf?

Then Vivian falls in love with a human, a meat-boy. Aiden is kind and gentle, a welcome relief from the squabbling pack. He's fascinated by magic, and Vivian longs to reveal herself to him. Surely he would understand her and delight in the wonder of her dual nature, not fear her as an ordinary human would.

Vivian's divided loyalties are strained further when a brutal murder threatens to expose the pack. Moving between two worlds, she does not seem to belong in either. What is she really—human or beast? Which tastes sweeter—blood or chocolate?"
-Goodreads Summary
I thought this book was great and I gave it a 5/5 stars. I am really glad I got to read this, which was recommended by to me by Holly. Also I liked the book better than the movie. Definitely was better than the movie!
Next I finished City of Fallen Angels by Cassandra Clare. This is the fourth book of the Mortal Instruments series, which I have yet to finish. It was good, although it took me a while to finish. I really love where the story line is going and I will be reading next book soon. I gave this a 4/5 stars.
(Not going to post the summary due to it being the forth book)
Next I read Obsidian by Jenifer L. Armentrout.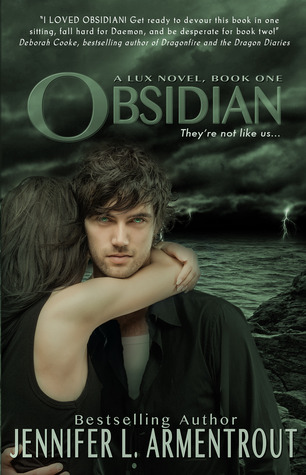 "When we moved to West Virginia right before my senior year, I'd pretty much resigned myself to thick accents, dodgy internet access, and a whole lot of boring... until I spotted my hot neighbor, with his looming height and eerie green eyes. Things were looking up.

And then he opened his mouth.

Daemon is infuriating. Arrogant. Stab-worthy. We do not get along. At all. But when a stranger attacks me and Daemon literally freezes time with a wave of his hand, well, something... unexpected happens.

The hot alien living next door marks me.

You heard me. Alien. Turns out Daemon and his sister have a galaxy of enemies wanting to steal their abilities, and Daemon's touch has me lit up like the Vegas Strip. The only way I'm getting out of this alive is by sticking close to Daemon until my alien mojo fades.

If I don't kill him first, that is."
-Goodreads Summary
I gave this book a 3/5 stars, mostly because I thought it was too fast paced and it should have had more character development. Although, I did love the story line and I will be continuing with this series.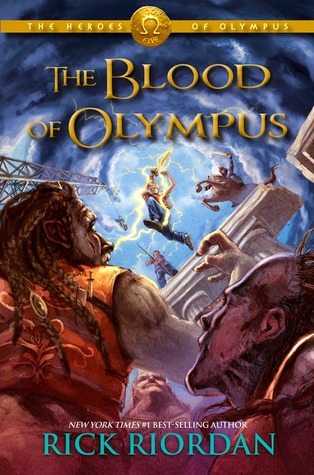 Then I read a book I have waited a year for! The Blood of Olympus by Rick Riordan, which is the final book in the Heroes of Olympus series! I am so sad this is over, but the book and ending was fantastic! 90 million/5 stars! I absolutely loved this and I cannot wait for the next series from Rick Riordan! This was also my favorite book of October and probably favorite of the year! :D
The second to last book I read in October was Before I Break by Alec John Belle!
"When religiously raised Cyril Hayes begins his junior year at East Hill High School, every choice he makes suffers a greater consequence, and while facing challenges of friends, family, and love, learns that hate and intolerance are also a very large part of our world today.

Cyril Hayes is seemingly just like any other male his age. He has the perfect girlfriend, Melissa Summers, his best friend, Jake Rivers, and a lawyer father who brings home enough money to support his family and then some. When Cyril begins his junior year, he doesn't expect his life to spiral out of control when he meets Avery Branson, the new kid in school who has a big secret: he's gay. At first, Cyril doesn't handle this truth well, due to the way he was raised, but as the story progresses, he ventures deep into the reality of homosexuality and begins to accept Avery for who he is.

Not everyone is happy with Cyril's new friend, including Jake, who believes that homosexuality is a sin and is refusing to budge his beliefs. But Avery isn't the only one at East Hill with secrets, and soon a tragedy will strike, knocking Cyril's world completely off balance and leaving a scar on his heart that will change his view of humanity all together
"
-Goodreads Summary
This was great and it had an awesome plot line. The character development was spot on! My favorite character was Melissa, she is BAMFa and my girl crush of the month. I gave this a 5/5 stars and if you want to know more I wrote a full review.. It happened to be my first ever post on here! :D <3
Lastly, I read Coraline by Neil Gaiman!
"'Coraline discovered the door a little while after they moved into the house. . . .' When Coraline steps through a door to find another house strangely similar to her own (only better), things seem marvelous.
But there's another mother there, and another father, and they want her to stay and be their little girl. They want to change her and never let her go.
Coraline will have to fight with all her wit and courage if she is to save herself and return to her ordinary life.
Celebrating ten years of Neil Gaiman's first modern classic for young readers, this edition is enriched with a brand-new foreword from the author, a reader's guide, and more."
-Goodreads Summary
This was great and definitely a fun read, but not my favorite Neil Gaiman book. I had a totally original plot line that left me on the edge of my seat. It was fast paced and really fun to read. I gave this a 4/5 stars.
In total, I read six books and 1,903 pages, including the two books I did not finish. Which were Stardust by Neil Gaiman and Demon Blood: Enlightenment by Tim Meyer. So, yay! I am so happy with the amount of reading I did and maybe I'll beat this amount in November.
Wishing you guys, girls, and everyone in between had a good reading month.
Love,
-UnderYourGrace aka Ashley